Microsoft® Excel® Basics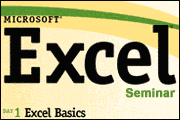 Seminar: ID# 1003786
Pricing: $79.00
About This Course:
Discover the basics, plus expert power tips!
Starting with the basics and moving to more advanced features, you'll learn how to turn Excel into your most powerful productivity tool. If you're only tapping into a few of the features of this powerful and versatile software, get set for a productivity explosion! You'll learn hundreds of ways to work faster, smarter, and savvier with Excel!
You don't have to waste hours wading through thick manuals ... sitting in classes for days, even weeks ... fruitlessly punching keys in trial and error learning efforts - forget all that! Our guaranteed one-day computer training gives you the most information possible in the least amount of time. Most of us don't have time in our busy workdays for extended training or on-the-job learning. Enroll in Excel Basics today, and you'll master the basics and move on to the tough stuff - away from deadlines, demands, and office pressures.
So many of us work by habit - doing things the same old way we learned to do them the first time. Break free of old habits and discover the Excel power tools that are available and just waiting to be used! You'll learn the ABCs of using charts, graphs, fonts, borders, shading, and more - and produce spreadsheets that communicate better and really get attention! You'll leave the seminar with a pack of professional tips for brilliant, distinctive output every time, on every worksheet!
This one-day seminar is for beginning to intermediate users. Learn how to set up Excel to meet your personal needs at work or at home, and customize its many features so that it works for you!
What You'll Learn:
Master an array of Excel formulas and functions that put spreadsheet power at your fingertips!
Design and organize the best possible worksheet - before you enter the first number
Give your worksheets visual punch with exciting charts and graphs, step by step, the easy way!
Make editing easy - fearlessly copy, move, delete, insert, or replace anything in your worksheet!
Solve common printing problems and end irritating output surprises once and for all
Macros now! Even if you're a beginner, create and use simple macros that save time and sidestep mistakes!
Continuing Education Credits:

Click the 'Credits' tab above for information on PHR/SPHR, PDCs, and other CE credits offered by taking this course.