Business Planning For Real Estate Agents
Best-Selling Training Courses:
Online Training Courses
How Real Estate Agents Can Create A Business Plan
Business planning for real estate agents sounds like a tedious process, and it is often not something most real estate agents look forward to tackling.

But consider this: the majority of agents that drop out of the business do so because they failed to plan properly. For instance:
They wobbled back and forth between taking listings and being a buyer's rep - and were successful in neither!

They spent all their advertising monies in the first few months hoping for commissions that never materialized - and now they have no marketing monies left

Their "lead generation" process was calling their friends and relatives as opposed to a more structured approach that builds a long-term, ongoing lead system
The bottom line is that by going through written business planning, you will put yourself in a better position to succeed in this industry. As such, we've listed below several tried-and-true business planning products that have been developed and used by successful real estate professionals.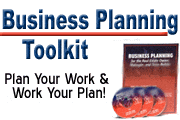 After all, why start from scratch when you can personalize what's already proven to work?

Recommended Real Estate Business Plan Courses And Products
Business Planning System For The Real Estate Professional

In this challenging, turbulent, competitive market, you've got to have a plan. But, here is much more than just forms to fill in. This is a comprehensive strategic planning system, suitable for the multi-million dollar producer as well as the agent just starting their business.
Get Real Estate Business Plan Training
To get real estate business plan training, choose one of the courses you see above or alternatively choose "Business Planning" in the "Professional Development" search box below, choose your state and click "Go".
Best-Selling Training Courses:
Online Training Courses
Find Seminars, Webinars, And Online Training In Your Area
Share on Facebook
Share on Twitter
RealEstateAgentTrainingCenter.com. 5755 North Point Parkway, Suite 227 | Alpharetta, GA 30022 | 770-410-1219 | support@RealEstateAgentTrainingCenter.com
Copyright RealEstateAgentTrainingCenter.com 2018 | Web Site Development by OTAU