Internal Investigations Certificate Program
Seminar: ID# 1265267
Available In Both In-Person And Video Conference Formats.

Is the time to learn how to do an internal investigation when you are faced with having to do one? This intensive program is designed to provide you with a thorough grounding in internal investigations.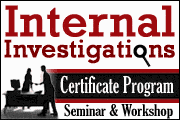 Upcoming Seminars:
takes place on three consecutive days, unless noted with an asterics (*)
Sorry, but this seminar is fully booked.
Click here
to find other venues/dates for this seminar.
Qty: 2 - Qty: 5
$20.00
$2,175.00
Qty: 6 - Qty: 10
$60.00
$2,135.00
RealEstateAgentTrainingCenter.com. 5755 North Point Parkway, Suite 227 | Alpharetta, GA 30022 | 770-410-1219 | support@RealEstateAgentTrainingCenter.com
Copyright RealEstateAgentTrainingCenter.com 2018 | Web Site Development by OTAU