How To Earn A Michigan Real Estate License
Real Estate License And Exam Prep Courses In Michigan
Have questions about getting a real estate license in Michigan? Luckily, TrainingCenter has both the required Michigan pre-licensing courses and training programs for how to list, sell, handle real estate objections, and more.
When it is time to earn your real estate license, the first step is making sure you are prepared. Essentially, you'll start by taking your state-specific pre-licensing course, then passing your exam. Tips for both, as well as recommended courses, appear below.
What Does An Michigan Real Estate Agent Do?
Real Estate Agents in Michigan help clients to purchase, rent, or sell property. This includes finding buyers and sellers, providing advice and helping to negotiate on price, and referring home inspectors or mortgage professionals - all within federal and state rules and regulations.
Further, they are required to represent the best interests of their clients, whether they be buyers or sellers in cities like Detroit, Grand Rapids, Lansing, Ann Arbor, Flint, Dearborn, Livonia, Troy, and Kalamazoo.
Generally speaking, Michigan real estate agents are responsible for: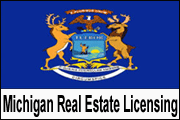 Communicating with buyers and sellers
Abiding by state and federal laws re advertising and communications
Staying involved to ensure any loan or financing requirements are met
Communicating with the other agent and attorney's throughout the process
Keeping an open line of communication with clients
Help to close the transaction
Agents often decide to represent buyers only, sellers only, or both. Depending upon whether representing the buyer or the seller, agents can recommend an appropriate selling price, market the property, negotiate offers, attend and/or review the home inspection and appraisal, and provide feedback on comparable sales. Regardless, the job is not just showing houses; there is lots of paperwork, planning, and phoning, and not just in a 9-5 time frame.
What Hours Do Real Estate Agents Work?
Since many buyers work 9-5, they typically look for properties "after hours". This means that a lot of a real estate agent's time is spent on nights and weekends showing properties.
That said, business time when not working with clients involves previewing properties, keeping up with paperwork, working on marketing or other business activities, and taking additional educational classes.
How Are Real Estate Agents Paid?
Most real estate agents are paid on commission when a property sells. A typical arrangement is that the selling agency and the buying agency split the real estate commission equally.
For example, if the real estate commission was 6%, each agency would receive 3% of the selling price. The buying and selling agent then typically split their 3% equally, though high-producing agents normally negotiate and receive a higher split.
What Is The Difference Between A Real Estate Broker And A Real Estate Agent
Real estate agents primarily work with buyers and sellers, but work for the agency with which they are affiliated.
While Real Estate Brokers also work with buyers and sellers, they also are responsible for overseeing their agents. This includes not just training, but overseeing forms and other paperwork. Additionally, Real Estate Brokers have to take additional education and earn a separate real estate broker license.
About Our Michigan Real Estate Licensing Courses And Exam Prep Materials
We offer Michigan real estate license training courses that fulfill Michigan's pre-license education requirements. Our Michigan training and exam prep materials are delivered in an easy-to-understand manner that provides important insights and valuable exam tips and strategies covering Michigan's rules and regulations for Michigan real estate licensing. You receive:
Both Print And Online Course Materials
Sample Exams
Exam Prep Materials
Instructor Support
When you have completed the training materials, make sure to take as many practice exams as possible. This will help you to pinpoint and overcome problem areas, and ensure that you pass your Michigan real estate licensing exam on the first try!
Recommended Michigan Real Estate Licensing Courses And Exam Prep Materials
You'll find the real estate licensing courses you need here at TrainingCenter. We offer state-approved courses that meet the Michigan pre-licensing requirement.
To find the right state-approved Michigan real estate license course for you, simply select one of the recommended courses below or search under "Licensing" in the search box. Good luck earning your Michigan Real Estate License!
Find Seminars, Webinars, And Online Training In Your Area
About The Michigan Real Estate License Requirements
To help with how to get a real estate license in Michigan, we have provided below information on Michigan licensing requirements, its insurance department, and examination scheduling facilities, as well as info on what is on the exam and tips for passing it.
Topics on the Michigan Real Estate License Exam
The Michigan real estate licensing exam includes approximately 150 questions covering both national and state-specific information. The exam covers real estate law, ownership, land use controls and regulations, disclosures, valuation, market analysis, financing, titling, taxes, and contracts.
Michigan Real Estate Licensing Department
Department of Licensing and Regulatory Affairs
Address:
Ottawa Building
611 W. Ottawa
P.O. Box 30004
Lansing, MI 48909
Phone:
517-335-9700
Website:
https://www.michigan.gov/lara/
Examination SchedulingProvider:
PSI Exams
Website:
https://candidate.psiexams.com/
Michigan Real Estate License Requirements
The following lists any applicable pre-licensing, continuing education, renewal, and reciprocity requirements for Michigan real estate licensing.
Real Estate License Requirements:
All licensees must be at least 18 years of age and of good moral character. Broker applicants must have at least 3 years of acceptable real estate related experience
Michigan real estate salesperson license: 40 hours which includes at least 4 hours of civil rights law and equal opportunity in housing
Michigan real estate broker license: 90 hours which includes at least 9 hours of civil rights law and equal opportunity in housing
State Reciprocity:
There is no reciprocity between Michigan and any other state.
Continuing Education And/Or License Renewal Requirements:
Real estate professionals must renew their licenses by October 31 every three years
Michigan requires licensees to complete 18 hours of real estate CE in each 3-year period, which includes 2 hours of legal updates classes that must be completed during each year of the license cycle
How To Get A Real Estate License In Michigan
Below are the recommended steps for passing your real estate agent exam and earning your Michigan real estate license.
Step 1: Review Michigan's State Licensing Requirements
Since real estate licensing is state-specific, you want to make sure you qualify or meet the basic requirements for the state in which you want to be licensed. In most states, you have to be at least 18 years old, pass a background check, and pass your state's exam. Click your state from the table above to find your state's requirements - and suggested licensing courses.
Step 2: Register For The Michigan Real Estate Licensing Course
Our real estate training courses are designed to meet the state pre-licensing requirements, as well as prepare you for your state exam. Once you are done, you will be ready to take your state's real estate licensing exam. Click you state from the table above for information on where and how to register for your exam.

Note: Once you complete your course, be sure to obtain your official transcripts or certificate of completion from the school, which is required for your real estate license application.
Step 3: Study For Your Exam!
While exams often require you to know terms, definitions, and rules, real estate licensing exams are often more than just memorization, so make sure you understand the concepts and take as many of the practice exams that come with your real estate pre-licensing course materials as possible.
Step 4: Pass Your Real Estate Licensing Exam
Step 5: Submit An Application To Get Your Michigan Real Estate License
Once you pass your exam, the next step is to apply for your real estate license. This usually includes completing an application and paying a licensing fee.
Step 6: Determine Where You Want To Work
New agents can work either individually, with a broker, or with a team. Those who want to work individually should make sure they have a good business plan and ample funding to carry them until their sales start rolling in. Separately, working with a broker could reduce up front costs while also providing a mentor relationship. Whichever option you decide is best for you, be sure to get trained!
Step 7: Get Training For Doing Listing Presentations, Handling Objections, And More!
While your real estate exam typically includes terms, definitions, and laws, it does not teach you how to sell real estate. For that, you'll need training on how to handle listing, FSBO, and expireds presentations, overcome objections, and more. Luckily, Training Center has lots of real estate training courses to help you succeed. Simply click one of the recommended courses below or select a topic from the search box below.
The Benefits Of Having A Michigan Real Estate License
There are many benefits to having a real estate license. While helping to serve your community find their "dream house", you also benefit from flexible hours and the opportunity to have high earnings via your commissions. For those who invest in real estate, having a license also gives you early access to properties as they become available.
Good luck passing your Michigan real estate licensing exam!
Disclaimer: This information provided is based on state laws and regulations, and is subject to change. While we make every effort to asure this information is current and accurate, it is not engaged in rendering legal or professional advice, and shall not be held responsible for inaccuracies contained herein.