How To Earn A Montana Real Estate License
How To Earn A Montana Real Estate License
When it is time to earn your real estate license, the first step is making sure you are prepared. Luckily, TrainingCenter has both the required Montana pre-licensing courses and training programs for how to list, sell, handle real estate objections, and more.
Essentially, you'll start by taking your state-specific pre-licensing course, then passing your exam. Tips for both, as well as recommended courses, appear below.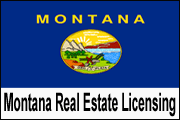 What Does A Montana Real Estate Agent Do?
Real Estate Agents in Montana help clients to purchase, rent, or sell property. This includes finding buyers and sellers, providing advice and helping to negotiate on price, and referring home inspectors or mortgage professionals - all within federal and state rules and regulations. Further, they are required to represent the best interests of their clients, whether they be buyers or sellers.
Additionally, depending upon whether representing the buyer or the seller, agents can recommend an appropriate selling price, market the property, negotiate offers, attending and/or reviewing the home inspection and appraisal, provide feedback on comparable sales.
The Benefits Of Having A Montana Real Estate License
There are many benefits to having a real estate license. While helping to serve your community find their "dream house", you also benefit from flexible hours and the opportunity to have high earnings via your commissions. For those who invest in real estate, having a license gives you early access to properties as they become available.
About Our Montana Real Estate Licensing Courses And Exam Prep Materials
We offer Montana real estate license training courses that fulfill Montana's pre-license education requirements. Our Montana training and exam prep materials are delivered in an easy-to-understand manner that provides important insights and valuable exam tips and strategies covering Montana's rules and regulations for Montana real estate licensing. You receive:
Both Print And Online Course Materials
Sample Exams
Exam Prep Materials
Instructor Support
When you have completed the training materials, make sure to take as many practice exams as possible. This will help you to pinpoint and overcome problem areas, and ensure that you pass your Montana real estate licensing exam on the first try!
Recommended Montana Real Estate Licensing Courses And Exam Prep Materials
You'll find the real estate licensing courses you need here at TrainingCenter. We offer state-approved courses that can meet the Montana pre-licensing requirement.
To find the right state-approved course for you, simply select "Licensing" and your state from the search box below. Good luck earning your Montana Real Estate License!
Find Seminars, Webinars, And Online Training In Your Area
About The Montana Real Estate License Requirements
To help with how to get a real estate license in Montana, we have provided below information on Montana licensing requirements, its insurance department, and examination scheduling facilities, as well as info on what is on the exam and tips for passing it.
Topics on the Montana Real Estate License Exam
The Montana real estate licensing exam is composed primarily or multiple choice questions covering both national and state-specific information. Exam topics include real estate law, ownership, land use controls and regulations, disclosures, valuation, financing, titling, taxes, and contracts.
Montana Department of Labor and Industry
Board of Realty RegulationAddress:
301 S. Park Avenue, 4th Floor, Helena, MT 59601
Phone:
(406) 444-6880
Website:
http://boards.bsd.dli.mt.gov/rre#1
Examination SchedulingProvider:
PSI Exams
Website:
http://online.goamp.com/CandidateHome/CandidateInformation.aspx
Montana Real Estate License Requirements
he following lists any applicable pre-licensing, continuing education, renewal, and reciprocity requirements for Montana real estate licensing.
Real Estate License Requirements:
Montana real estate salesperson license: 60 hours
Montana real estate broker license: 60 hours (in addition to two years of experience as a licensed salesperson)
State Reciprocity:
Montana has a reciprocal agreement with the licensing jurisdiction of Alberta, Canada.
Applicants from other states may submit a waiver of examination and/or education. The Board may approve to waive all or part of the required pre-licensing education and/or the exam.
Continuing Education And/Or License Renewal Requirements:
Real estate professionals in Montana who want to renew their real estate licenses must do so by October 31 every year
By that date, licensees need to complete 12 hours of real estate CE, of which 8 hours may be electives and 4 hours must be core coursework
Good luck passing your Montana real estate licensing exam!
Disclaimer: This information provided is based on state laws and regulations, and is subject to change. While we make every effort to asure this information is current and accurate, it is not engaged in rendering legal or professional advice, and shall not be held responsible for inaccuracies contained herein.