Criticism & Discipline Skills for Managers and Supervisors
Seminar: ID# 1003633
You'll learn how to distinguish the types of problem employees. You'll learn the hidden causes behind difficult behavior, and you'll find out how to deal with each employee carefully and compassionately.

This training session is available in both in-person and video conference formats. Same great training; you simply decide which format best fits your needs!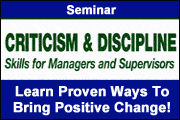 Upcoming Seminars:
We are sorry, but there are no in-person dates currently available for this course. We suggest you either search for another course, bookmark this page and check back later, or contact us to be notified when dates for this course are again available.
RealEstateAgentTrainingCenter.com. 5755 North Point Parkway, Suite 227 | Alpharetta, GA 30022 | 770-410-1219 | support@RealEstateAgentTrainingCenter.com
Copyright RealEstateAgentTrainingCenter.com 2018 | Web Site Development by OTAU