Real Estate Agent Administration
Office Administration: How To Run Your Business Productively And Profitably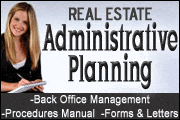 To build a successful real estate practice, it is absolutely essential to have an efficient office with manageable systems in place. Insuring your support staff is well trained is tantamount to you thriving in this industry.



Some of the things your support staff handle include following up on sales prospects, keeping on top of compliance, managing communications with clients and other agents, and lots of other tasks necessary to increase real estate agent's productivity.




---
Recommended Office And Administrative Products For Real Estate Practice Management
---
Procedures Manual for Agents



This manual contains over 150 pages of great procedures and systems to get and keep your business running like a well-oiled machine.



It also includes numerous sample letters and checklists ? such as "Closing Checklists" for Buyers and Sellers - that can both impress your clients and help the sale go through without a hitch!



Your real estate practice management manual is provided in CD-ROM format, so each form, procedure, and letter is fully customizable!





The Policies, Procedures, & Personnel Forms Manual



Do you have an office policy manual? If not, you should. A properly-worded manual is an absolute necessity in today's litigious society as it helps maintain an orderly, productive office and prevents misunderstandings and problems with your sales associates that all too easily become major headaches, lawsuits, and legal fees. It's real estate practice management at its finest!



It's also required in most states and you can't get liability insurance without it. Protect yourself with a proven manual that's been tested in thousands of real estate and mortgage offices nationwide.

The 3 audio CDs include role-plays of the sales calls and the sales skills absolutely critical to your success.
---
Find Other Office And Administrative Products For Real Estate Agents
---
To get office and administrative products for real estate agents, choose one of the courses you see above or alternatively choose "Administration" in the "Professional Development" search box below, choose your state and click "Go".

Find Seminars, Webinars, And Online Training In Your Area
Share on Facebook
Share on Twitter
RealEstateAgentTrainingCenter.com. 5755 North Point Parkway, Suite 227 | Alpharetta, GA 30022 | 770-410-1219 | support@RealEstateAgentTrainingCenter.com
Copyright RealEstateAgentTrainingCenter.com 2018 | Web Site Development by OTAU