The Essentials Of HR Law
Seminar: ID# 1261484
Get a new perspective on your HR challenges and new tools for meeting them confidently and legally!

In one information-packed seminar, you'll learn what you need to know to handle the legal issues and gray areas you face every day.

To comply with the CDC's requests for social distancing, through the end of April all sessions for this in-person seminar will be moved to a video conference format. You will get the same great training, only it will be delivered via a video conference versus in a conference room.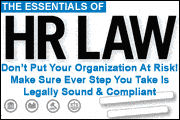 Upcoming Seminars:
Order:
The Essentials Of HR Law
Pricing:
$199.00
Metropolitan Area:
Duluth
Venue:
The Inn on Lake Superior
350 Canal Park Dr
Duluth, MN 55802
Contact Phone:
770-410-1219
Date:
2/19/2020 (9:00 - 4:00pm local time)
Qty:
RealEstateAgentTrainingCenter.com. 5755 North Point Parkway, Suite 227 | Alpharetta, GA 30022 | 770-410-1219 | support@RealEstateAgentTrainingCenter.com
Copyright RealEstateAgentTrainingCenter.com 2018 | Web Site Development by OTAU