The Women's Conference
Seminar: ID# 1268802
A Conference Just For You

This unique event brings nationally respected speakers together with the area's most talented professional women (including you!). Miss this day, and there's no telling how many opportunities will pass you by.

This training session is available in both in-person and video conference formats. Same great training; you simply decide which format best fits your needs!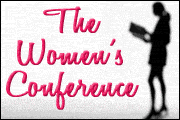 Upcoming Seminars:
We are sorry, but there are no in-person dates currently available for this course. We suggest you either search for another course, bookmark this page and check back later, or contact us to be notified when dates for this course are again available.
Order:
The Women's Conference
Pricing:
$149.00
Metropolitan Area:
Cincinnati
Venue:
Quality Hotel - Blue Ash
5901 Pfeiffer Rd
Cincinnati, OH 45242
770-410-1219
Date:
8/18/2020 (9:00 - 4:00pm local time)
Qty:
RealEstateAgentTrainingCenter.com. 5755 North Point Parkway, Suite 227 | Alpharetta, GA 30022 | 770-410-1219 | support@RealEstateAgentTrainingCenter.com
Copyright RealEstateAgentTrainingCenter.com 2018 | Web Site Development by OTAU