Products Available For The 50-50% Revenue Split
Available Workers' Compensation Courses
The following are the audio conferences that qualify for the 50-50% revenue split*. Shown is the title, date held, image, course url, and teaser text. To see the full course description for writing your ad, click on the image.
9 Ways To Spot, Handle, and Reduce Workers' Comp Fraud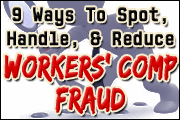 Sometimes the tell-tale signs of a fraudulent claim are apparent right away; other times they don't develop until the claim is already in progress, but either way, you need to know what to do to protect your organization.
Available Versions:
Live on: 4/28/2020. Also available via On-Demand

Course URL: https://www.realestateagenttrainingcenter.com/9-ways-to-spot-handle-and-reduce-workers-comp-fraud-on-4-28-2020-wc1037336
Available Courses In Other Fields:
Steps For Generating Your Ads & Earning Commissions
Select the course(s) you want to promote
For each promotion, use the descriptions and/or images as provided for each course, or shorten or create your own descriptions
Create your trackable links by adding your Referrer ID to the course url to create the link for which your customers should click to see more details/enroll - and track your commissions! In other words, [course url]&RID=[your referrer ID]

Example:

Course url = https://www.RealEstateAgentTrainingCenter.com/showWCDetails.asp?TCID=1003701;
Your Referrer ID* = 1011111; Your ad link should read:

https://www.RealEstateAgentTrainingCenter.com/showWCDetails.asp?TCID=1003701&RID=1011111
Note: New partners should email us with their sample ads for the first two promotions they prepare so we can review and make comments.
Questions?
As always, contact your Training Center Affiliate Support Team at 770-410-1219 if you have any questions!
Getting Started
To become an approved partner, call us at 770-410-1219.

* Referral IDs are assigned when you become an approved partner, which means your organization must promote at least two of the available courses each month via an approved method such as an email promotion to your members or prospects. As an approved partner, your organization earns 50% of the selling price of these products.