Basics Of Building A Real Estate Business
Learn How To Successfully Plan And Work Your Real Estate Business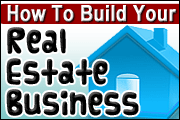 TrainingCenter spoke with hundreds of brokers and agents around the country regarding what training is needed or being done in today's real estate environment.
And the answer was overwhelming: focus on the basics by planning your business and working your plan, and by paying extra attention to the details.
So to help, we've identified the eight key areas for running a real estate business, and have included a variety of training courses and products for each. The end result? By focusing on these tried-and-true methods for growing your business, you'll be more successful. Sounds simple, but its true!
---
Key Areas For Building A Real Estate Business
---
When learning how to grow your real estate business, you'll need to sharpen your skills on these real estate agent basics:
For detailed plans and recommended courses on those topics, simply click the title.
Search For Other Real Estate Training Courses
If you need other real estate agent training, use the "Professional Development" search box below and choose the topic you need help with and select your state, or you may select one of our recommended training courses you see below.
Find Seminars, Webinars, And Online Training In Your Area