Working With Buyers / How To Become A Buyer's Agent

Working With Buyers

You do a formal presentation every time you list a property for sale. Why wouldn't you do the same with buyers?

Buyers usually are ready and able to buy immediately, so this means less engagement time for you and a client who is ready to pull the trigger. So why not learn how to become A Buyer's Agent?

Practicing as a Buyer's Agent also means you avoid potential conflict of interest issues when representing the seller and the buyer on the same transaction. You can focus solely on pursuing the very best deal for just one party to the transaction, often a first-time home buyer.


---
Recommended Training Courses And Products For Working With Buyers
---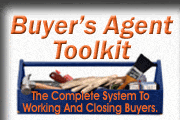 The Complete Buyer's Agent Toolkit

Buyers expect much more today, yet most agents haven't re-tooled or systematized their buyer processes to deliver that "value-added" service that buyer's demand.

Much more than just forms and lists, The Buyer's Agent Toolkit is a complete tutorial quality tested and recommended by the Council of Residential Specialists (CRS).

The checklists alone are worth thousands in time management and professional proof to you!


Run Your Own Seminar Kit: Seminars For First-Time Home Buyers

Our First-Time Home Buyers Presentation Kit will help you to service an often overlooked market segment: the first time home buyer.

It will give you proven methods and materials for running a successful seminar - scripts, handouts, follow-up postcards - even a customizable version of her very own PowerPoint presentation.

You simply promote the seminar using the proven materials we provide, greet people at the door, show them their seats, make a brief introduction, and then start-up your customized PowerPoint slide presentation. The slides lead you through the first time home buyer's presentation step-by-step. Nothing to it!


---
Get Training For Working With Buyers
---

To get training for working with buyers, choose one of the courses you see above or alternatively choose "Buyer Presentations" in the "Professional Development" search box below, choose your state and click "Go".
Recommended Training Courses:
Online Training Courses
Self-Study Materials
Find Seminars, Webinars, And Online Training In Your Area
---
Other Key Links For New Real Estate Agents
---
Are you a new real estate agent? Learn the necessary business skills a real estate agent must master to be successful!
Share on Facebook
Share on Twitter
RealEstateAgentTrainingCenter.com. 5755 North Point Parkway, Suite 227 | Alpharetta, GA 30022 | 770-410-1219 | support@RealEstateAgentTrainingCenter.com
Copyright RealEstateAgentTrainingCenter.com 2018 | Web Site Development by OTAU