Buyer Representation Training
Buyer Representation Training Can Improve Your Success Rate
Become A Buyer's Agent!
With buyer representation training, you'll learn how to attract real estate buyers and how to be a buyer's agent in all matters of their prospective home purchase. Proper buyer's agent training will insure that you and your buyers are well protected throughout the transaction.
What Does A Buyer's Agent Do?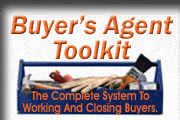 A Buyer's Agent can:
Find properties
Refer or help select a mortgage lender
Act as a go-between with other agents and sellers
Negotiate on your behalf
Be present for the home inspection
Attend the home appraisal
Communicate with your attorney
Tie up and solve any remaining issues for the closing
What Kinds Of Things Will I Learn In Buyer Representation Training?
With our vast array of buyer's agent training courses, you can learn:
How to gain cooperation and loyalty from a buyer

How to create value-added services

How to deal with non-qualified prospects

How to handle objections to signing a contract

How to only work with the "A-list" buyers

And much, much more!
Clearly learning how to be a buyer's agent is paramount to your success in working with real estate buyers.
Find Buyer's Agent Training
Learn how to become a Buyers Agent with our buyer's agent listing presentation, home buyer seminar, and other buyer's agent training courses! Learning how to work with real estate buyers will go a long way to insuring a successful career for you. Take a look at some of the recommended courses you see here or use the search box below to find the training courses we have available on this and many other topics!
Find Seminars, Webinars, And Online Training In Your Area