Working With Buyers And Sellers Of Distressed Properties: Foreclosures, Short Sales And REO's

Working With Buyers And Sellers Of Distressed Properties: Dealing With Foreclosures, Short Sales, And REOs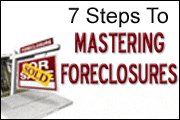 The recent economic times have seen record rates of distressed homes hitting the markets. Values have plummeted, while owners have been rocked with lost equity and high payments in the face of the highest unemployment rate we've seen in this generation.

What does this mean for you? Record numbers of buyers and sellers of distressed properties!

With the foreclosure training and the short sale training you'll find right here, you'll learn how to help these people and grow your income while doing it!


---
Recommended Foreclosure Training And Short Sale Training For Real Estate Agents
---
The Making Money With Pre-Foreclosures Training Guide

As a real estate agent, today's foreclosure market can be a formidable piece of your income. Learn how to do it right, and you can make your clients (and yourself) a lot of money.


Foreclosure Mastery

The greatest difficulty for walking out of a listing presentation with the contract signed by a seller is their motivation. But if the person is facing foreclosure, they are probably VERY motivated.

Yet most agents would treat prospects in default as "C" leads and move on to the next prospect. Why? Because most Agents don't know how to handle prospects in foreclosure and usually see them as junk prospects.
---
Get Your Foreclosure Training And Short Sale Training Here
---
To get foreclosure training and short sale training for real estate agents, choose one of the courses you see above or alternatively choose "Foreclosures" in the "Professional Development" search box below, choose your state and click "Go".
Find Seminars, Webinars, And Online Training In Your Area
---
Other Key Links For New Real Estate Agents
---
Are you a new real estate agent? Learn the necessary business skills a real estate agent must master to be successful!
Share on Facebook
Share on Twitter
RealEstateAgentTrainingCenter.com. 5755 North Point Parkway, Suite 227 | Alpharetta, GA 30022 | 770-410-1219 | support@RealEstateAgentTrainingCenter.com
Copyright RealEstateAgentTrainingCenter.com 2018 | Web Site Development by OTAU